Current Location > Home > ABOUT US > INTRODUCTION
ABOUT US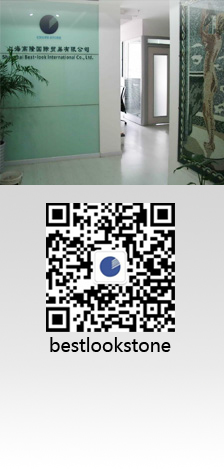 Dear Customer,
As the beautiful gift from the nature, stone is an ever-lasting story from ancient to future.
China is an important supplier for natural stone materials in the most different colors and structures. The China stones are extracted in big quantities. Chinese people are showing the world their remarkable working capacity with their excellent quality stone products.
As one of the leading stone producers and suppliers in China with sufficient experience on the stone business, we are surely your reliable cooperator and partner in this field.
To make you an impression on our company, we created this website. You can see over 400 different kinds of China Marble, Granite and slate natural stones and stone products together with some of our imported natural stones in this catalogue which are commonly operated by us with stable quality and quantity. Although it is impossible to put nature's varieties and quality in this website, we just ask our good customers to allow us to show our works.
"Constant Exploitation and Improvement for Super-excellence" is our maxim. Our staffs are with abundant geological knowledge and skillful processing experience. We will develop over 10 different kinds of new stone materials every year, introduce many new model stone products, and create many new stone designs for special requirement. We are also a technical company with very good team works on large scale and complicate construction stone project producing.
Handling almost range of the stone business: slabs, tiles, paving stones, claddings, mosaics, borders, medallions, moldings columns, sculptures, statuary, sills, steps, cut-to size, countertops, vanity tops, fireplaces, monuments etc, we have supply ability over 100,000 m2 tiles or cut-to sizes, 50,000 m2 slabs, and 25,000m2 mosaics every month.
Please note we cannot put the whole stone materials and products with designs in this website. If every of our customers require the materials which can not be found in here, please not be hesitating to contact us. If every of our customers require further information about our stone products and other more projects with the stone supplied by our company, please also feel free to contact us. We also do the fabrication with designs coming from our customers. We never sell the highest, and we work only the best.
Our customers` contentedness is our goal, and our customers` standard is our working standard!
SHANGHAI BEST-LOOK INTERNATIONAL CO., LTD.
CHANMEN STONE CO.,LTD.
CHAN'S STONE GROUP
Add: Rm.1105, No.58 Chang Liu Rd.,(Zendai Cube Edifice) Shanghai,200135 China
Tel:86-21-33927446 / 33927447 Fax: 86-21-33927448 / 33927449
Website: www.best-lookstone.com www.bestlookstone.com
E-mail: bestlook@bestlookstone.com or best-look@bestlookstone.com or best-look@online.sh.cn